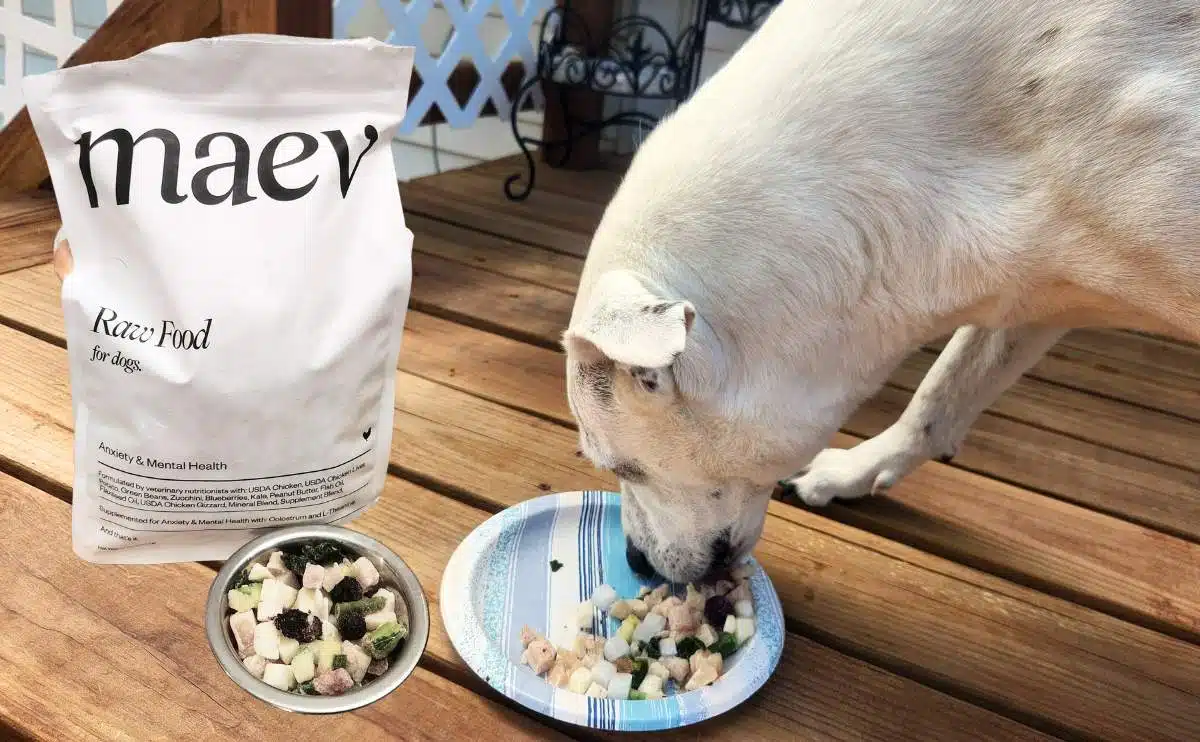 Dog owners have plenty of choices when choosing the best nutrition for their pups. There are many different brands to choose from, but one area that is gaining more attention is the raw pet food market. Pet food from human-grade ingredients offers top-quality flavor and nutritional value. Maev, a newcomer to the canine nutrition industry, is a raw nutrition, subscription-based, human-grade, natural dog food company. We look beyond the name and learn more about the company, its products, history, and more.
Maev Dog Food Reviews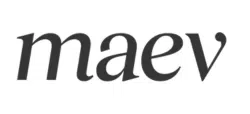 Product Name: Maeve Raw Food
Product Description: Maev is a company offering frozen, raw, human grade dog food subscriptions.
Summary
Maev is a newer company that makes all-natural, human-grade, raw dog food delivered directly to your door.
Pros
Human-grade, organic ingredients with whole meats and organ meat
Limited ingredient recipes
Veterinarian designed
Raw food can be personalized to target your dog's specific health issue
Supplement bars can be given as treats to further target your dog's issue 
Bone broth topper can help build immunity, detox the liver, strengthen skin/coat, and support healthy joints
Can eat frozen or thawed
Highly digestible
Targets 7 essential health benefits
Owners can select frequency of delivery
Made in USA with US and globally sourced ingredients
Cons
Expensive
Only 2 proteins available (chicken and beef)
Puppy formula is only available in chicken
Takes up freezer space
Shipping isn't free
Subscription based but you can adjust frequency or cancel at any time
Key Features
Biologically designed raw food diets
USDA certified
Made and sourced in the USA
Small business
Developed with Ph.D.-certified pet nutrition experts
Delivery service
Shipped on dry ice
Products available include raw food, bone broth, and supplement bars
Organic, raw nutrition
Based on a natural diet
Unique supplement blends
Maev Raw Dog Food
Maev was started by dog owner Katie Spies in 2020. After her pup George experienced some health concerns, Spies began making her own food for him. As she watched his health improve, she began researching how this diet could help other dogs and boost their overall health. Spies changed her life's focus and got to work on making this kind of top nutrition available to more dogs and owners. After three and a half years of research, she was able to make that mission a reality.
Maev offers raw meals for dogs made from fresh, human-grade ingredients. Recipes are limited ingredients and formulated to promote better health for dogs. They contain no filler, additives, artificial ingredients, or toxins. Recipes are simple and straightforward and use recognizable, natural ingredients. There is very minimal processing used in production, and no prep is required by owners. Meals can be served frozen or thawed. All recipes are formulated to meet AAFCO standards. Every product is made in a commercial kitchen in the United States.
Raw Food Safety
Uncooked meat safety is a big concern, and Maev is very focused on keeping dogs safe. Products are often tested for bacteria, pathogens, and viruses, including E. coli, Salmonella, Listeria, and Micro (APCs). All recipes are formulated by a Ph.D. veterinarian. Products are USDA-certified, AAFCO-compliant, and ingredients are always human-grade.
Raw Food Benefits
There are several potential benefits of a raw diet for canines. Some research suggests that a raw diet helps digestion, balances the gut biome, and improves bowel movements. Supporters of the diet report benefits like healthier skin, a softer coat, improved energy, fewer allergies, and weight control. Though there is little clinical research on the subject, a growing number of pet nutrition experts and owners support raw feeding. Learn more in our review of the best raw dog food companies.
Recipes support 7 Essential Health Benefits. Owners can select what they want recipes formulated for, and a specific blend of supplements is added to the food.
7 Essential Health Benefits
Weight & Digestion – Gut health and better bowel movements. Includes digestive enzymes, chicory root, and probiotics.
Hip & Joint – Mobility and reduced inflammation. Includes elderberry, chondroitin, turmeric, and glucosamine.
Anxiety & Calming – Balanced energy and less hyperactivity. Includes Thiamine B1, bovine colostrum, chamomile, L-Theanine.
Skin & Coat Health – Softer fur and less shedding/itching. Includes omega 3 and 6 fish oils.
Immune Function – Gut barrier integrity and fewer allergies.
Oral Health – Plaque removal and better breath.
Early Development – Trainability and recall.
Benefits Seen In First 4 Months Eating Maev
| Month 1 – Gut Reset | Month 2 – Overall Health | Month 3 – Improve Bones, Skin & Teeth | Month 4 – Healthy Aging |
| --- | --- | --- | --- |
| Improved digestion | Strengthened immune system | Beginning to reduce allergy symptoms | Better weight control |
| Harder, smaller, less smelly stools | Improved liver, pancreatic & bowel health | Shinier, healthier skin & coat | Increased mobility in older animals |
| Balanced energy & stamina (less hyperactivity & fatigue) | Less hyperactivity caused by chemicals, flavorings, additives & colorings | Cleaner teeth and fresh breath | Fewer vet visits |
| Less begging for human food or treats | | | |
Has Maev Been Recalled?
There have been no Maev dog food recalls to date. That is always good news, especially because the brand makes uncooked meat products. Several safety precautions must be in place, and it is very positive that the brand has no recalls. They are a young company in a tricky niche, but so far, they are performing well.
Maev Dog Food Ingredients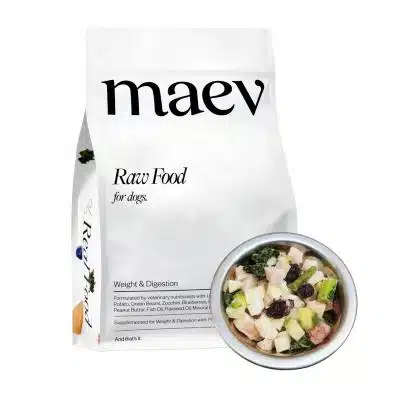 Ingredients are all fresh, human grade, and sourced in the United States. All ingredients are Ph.D. vetted, and recipes contain lean protein, organ meat, fresh produce, and personalized supplements. Maev offers 5 meal recipes formulated with either beef or chicken. Ingredients are shown in the table below.
Maev Raw Food Nutrition Analysis
Knowing the nutrients in your dog's diet is crucial in providing a healthy balance. Below are the "As Fed" and "Dry Matter" values of key contents your dog receives with Maev. As Fed values show the food's moisture content. Hydration supports the digestive system, aka better poops. Dry Matter values show the closest amount of content your dog receives.
| | Beef | Chicken | Puppy |
| --- | --- | --- | --- |
| Crude Protein (Min) – As Fed | 10.86% | 10.58% | 10.43% |
| Crude Protein (Min) – Dry Matter | 43.5% | 48.13% | 37.25% |
| Crude Fat (Min) – As Fed | 4.7% | 3.5% | 4.06% |
| Crude Fat (Min) – Dry Matter | 18.8% | 19.25% | 12.51% |
| Crude Fiber (Max) – As Fed | 1.16% | 2.5% | 1.95% |
| Crude Fiber (Max) – Dry Matter | 6.45% | 7.32% | 6.97% |
| Moisture (Max) – As Fed | 76% | 77% | 72% |
| Moisture (Max) – Dry Matter | 0% | 0% | 0% |
| Cal/kg | 3500 | 3500 | 3495 |
Maev Raw Food is formulated to meet nutritional levels established by the AAFCO.
Maev Bone Broth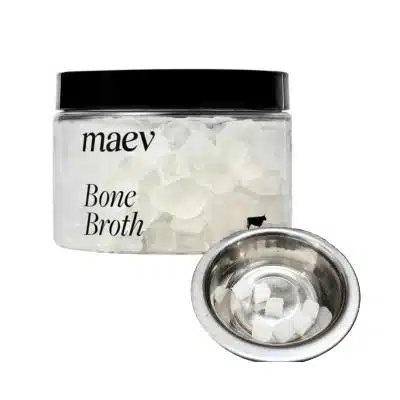 Maev also offers a bone broth topper in frozen cubes. Cubes are made from beef bone broth. They contain collagen, glycosaminoglycans (GAGs), glucosamine, chondroitin, hyaluronic acid, and amino acids like glutathione. Cubes can be served alone as a treat or added to meals.
They can be crunched, frozen, or left to melt, whatever your pup prefers. Bone broth helps support the cartilage in joints, benefits the gut, and can help with inflammation. It also adds flavor and variety to your pup's bowl.
Supplement Bars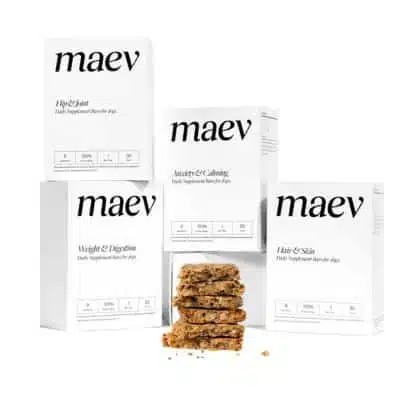 Maev also offers supplement bars. Supplement bars are crunchy treats formulated to support different areas of health. These areas are:
Hip & Joint
Anxiety & Calming
Skin & Coat
Weight & Digestion.
The treats are peanut butter-based, with ingredients like coconut flakes, chia seed, coconut oil, flour, gelatin, vitamins, and probiotics.
Maev Dog Food Cost
Maev is more expensive than the kibble you buy at the store. 20 pounds (4 bags) of food, delivered every 4 weeks, costs between $152 and $165. Adding 3 jars of bone broth to the bundle costs $33. Supplements cost $39 for a box of 30 bars. Owners can pick delivery frequency every week to every 10 weeks.
Bundle Options
The brand offers 8 premade bundles as well. Each bundle is unique. Some have supplement bars, others have bone broth, and some have all 3. Bundle prices range from $154 to $260 monthly.
Itchy Dog
Small Dog
Gassy Dog
Achy Dog
Senior Dog
Puppy
Big Dog
Reactive Dog
Is Maev Worth The Price?
Though Maev is expensive, it is quite fresh, and dogs genuinely love it. The brand is priced higher than many competitors, including fresh, human-grade options. Meals are raw, which makes them stand out from the rest. Because the price is so high, Maev may not be a viable option for all owners. Some may be able to mix it with other foods to make it last longer. Being able to pick the delivery frequency is also helpful, as owners can work it to meet their budget.
There is some concern about bacteria, as uncooked meals must be used within a certain amount of time to reduce the risk of harmful bacteria. However, with proper handling, following instructions, and safe storage, Maev is well worth the money. Meals are of exceptionally high quality, in fact, better than some foods many humans eat.
Feeding Guide
Maev does not pre-portion meals but has plenty of information on the website and the accompanying literature to guide owners to the correct portion sizes. Puppies aged 8 weeks to 2 years should follow adult portion sizes but base the size on the puppy's estimated adult weight. Serving sizes are below:
| Dog Weight (lbs.) | Normal Activity | High Activity |
| --- | --- | --- |
| 4 – 10 | 1/3 to 3/4 cups per day | 1/2 to 1 cup per day |
| 10 – 20 | 3/4 to 1 1/2 cups per day | 1 to 2 1/4 cups per day |
| 20 – 30 | 1 1/2 to 2 1/4 cups per day | 2 1/4 to 3 1/2 cups per day |
| 30 – 35 | 2 1/4 cups to 4 cups per day | 3 1/2 to 6 1/4 cups per day |
| 55 – 80 | 4 to 6 cups per day | 6 1/4 to 9 cups per day |
| 80 – 120 | 6 to 9 cups per day | 9 3/4 to 13 1/2 cups per day |
| 120 -155 | 9 to 11 3/4 cups per day | 13 1/2 to 17 1/2 cups per day |
| 155 – 200 | 11 3/4 cups to 15 cups per day | 17 1/2 to 22 1/2 cups per day. |
Our Personal Experience With Maev
My pup Daisy, an 11-year-old Pitbull Labrador mix, tried out the chicken recipe and the bone broth. Her bag was formulated for anxiety, so it had added bovine colostrum and L-Theanine. Bovine colostrum is a nutrient-rich powdered bovine milk containing anxiety-reducing antibody proteins. L-Theanine is an amino acid that helps calm and increases the amount of dopamine and serotonin in the brain. It works to help regulate a dog's physiological response to stress. I picked the formula because she has been experiencing moodiness as she ages. Daisy has slowed down a bit in her movements, and her joints are not as limber as they once were.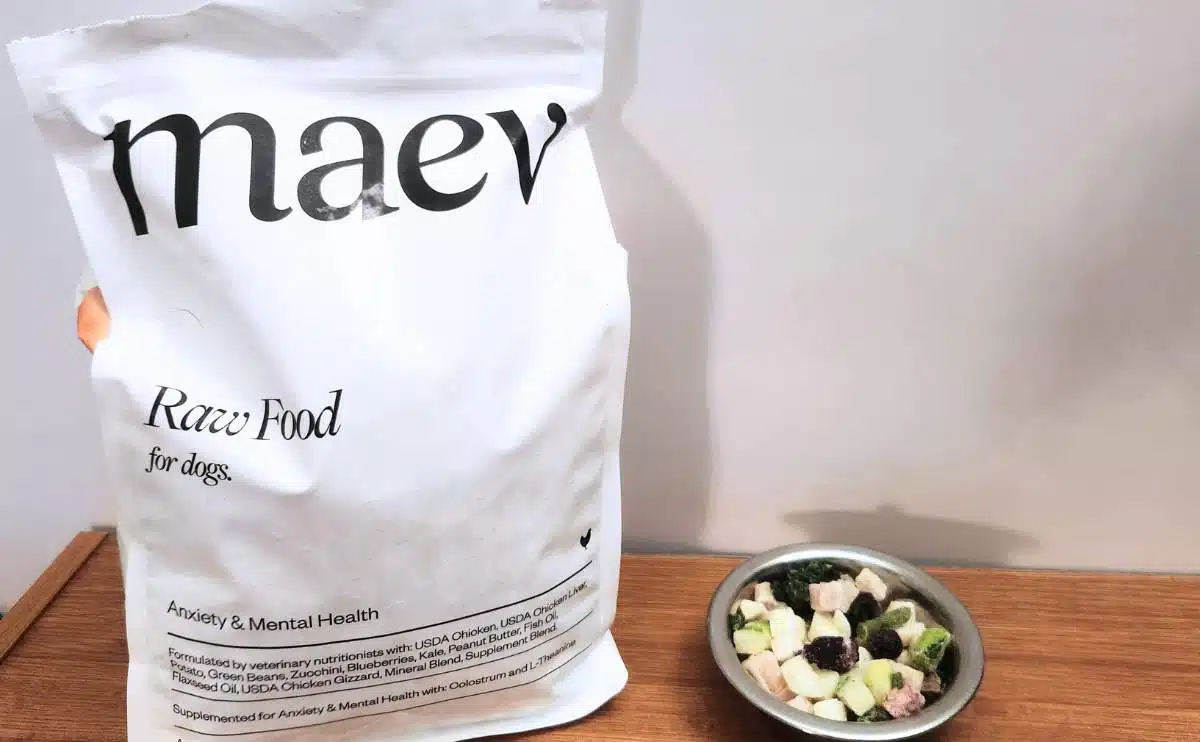 If Daisy could talk, she would likely say she LOVES this chow. She gobbled it down from the first bowl and licked the plate clean. We have been mixing it with her old kibble, and she has happily eaten the mixture. She also enjoys bone broth. At first, she was confused about what they were, but after she tasted one, she was all in. We have given these as a snack and mixed them in with kibble.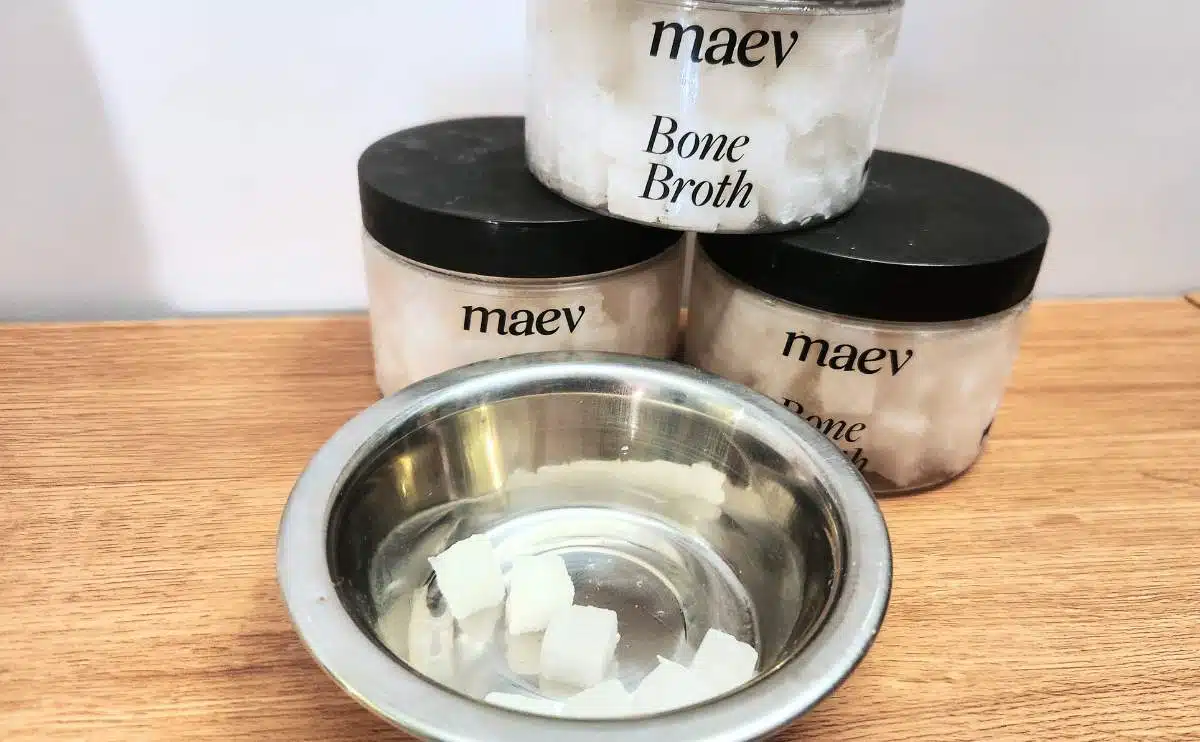 Overall, we are pleased with the product. It came very well packaged on dry ice and had no signs of melting. It is not messy at all, and the packaging reseals and stays closed. Nutritional elements are easily identifiable. It is hard to tell the difference between Maev and fresh frozen human meals.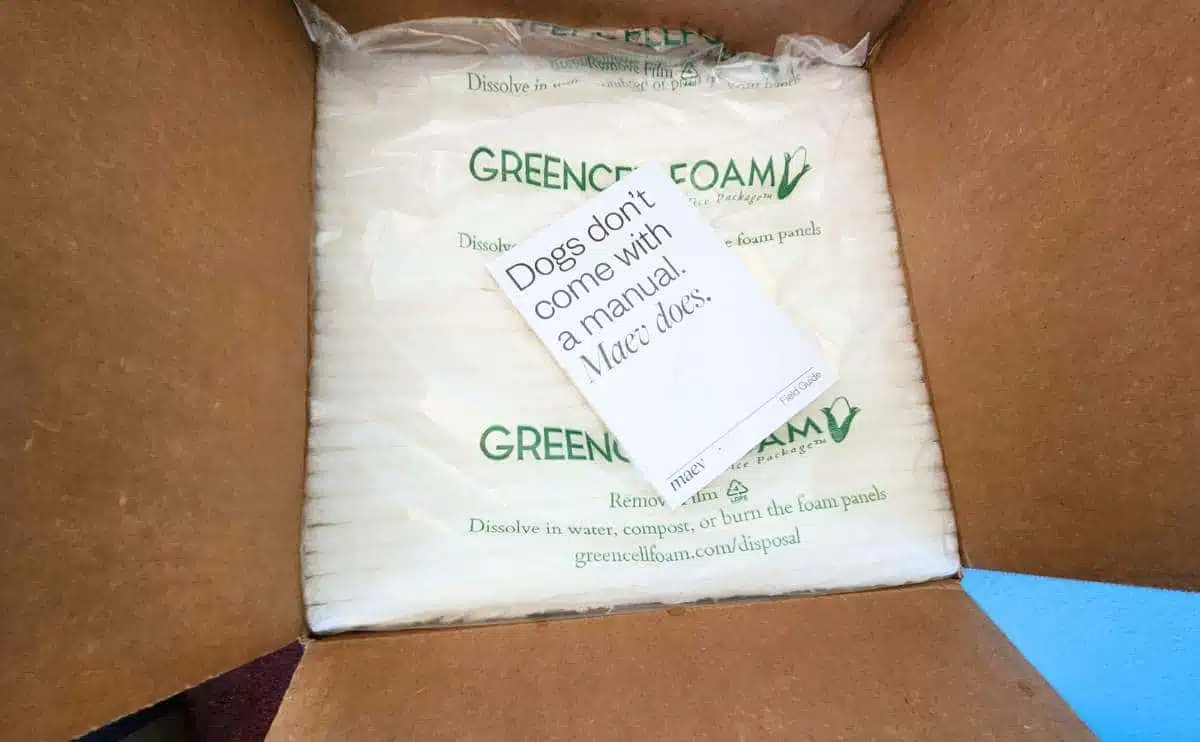 Daisy is a very happy girl after eating the food for about 2 weeks. She has been excited about mealtimes and has more energy. We have noticed her bowel movements being easier for her to pass and less strained. Her gas issues are still there but have lessened. Maev is a brand I would recommend, especially for older, pickier dogs.
Our Final Verdict
Maev is a high-quality, high-priced option for simple, whole-food nutrition. The brand makes it very convenient for owners who want to feed their dogs human-grade raw meals. Meals are tasty and earn the dog drool seal of approval from my dogs. When on Maev long-term, owners report seeing significant improvement in their pet's mood, weight, digestion, coat shine, and overall health. Overall, the brand offers an incredibly high-quality product and seems genuinely dedicated to the well-being of dogs.
For larger dogs, it can get quite expensive and take up a lot of room, which is a drawback. However, as far as quality, Maev is up there with some of the best. Customer service gets enthusiastic reviews, and most customers are delighted with the brand.
The website is easy to navigate and offers a wealth of information on recipes, raw nutrition, and canine care. I also really appreciated the printed field guide that came with my box. It contains information on the ingredients, a feeding guide, and a progress log. This is extremely helpful and is a tool to guide owners through the transition to a raw diet. I also appreciated the company sharing information on the veterinary nutrition experts who help create the recipes.
What About Fresh Dog Food Options?
Still unsure if Maev is right for you? We also review We Feed Raw, another raw delivery option. If you like the idea of fresh nutrition but are not comfortable with uncooked meats, there are several other options to pick from as human-grade pet food is a growing industry, and there are options for just about every kind of pup. We discuss several of the best fresh dog food delivery options and the benefits of the fresh food diet. Owners can purchase many of these on subscription, but some are available as individual purchases.
The Farmer's Dog is a top pick for dogs of all ages and breeds. Spot & Tango offers fresh and freeze-dried options. Nom Nom, Ollie, Raised Right, A Pup Above, and other top picks for fresh, gently cooked human-grade meals. These are all subscription services. Other alternatives like Freshpet and Stella & Chewy's do not need a subscription and are available from varying retailers.
If you have never fed your pup a raw diet before or are considering switching due to health concerns or nutritional deficiencies, consult your veterinarian before making any significant dietary changes.
Tagged With: Food Delivery, Raw