While dog DNA testing has come a long way over the last few years to identify mixed breeds and genetic health risks, not all testing kits are created equal. Orivet's at-home dog DNA tests are some of the most affordable you can find. But do they give you the accuracy and results you want? Find out in our Orivet DNA test review.
View on Amazon | View on Chewy
Orivet Dog DNA Test Review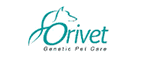 Product Name: Orivet Dog DNA Test
Product Description: Orivet offers dog DNA tests to learn more about your dog's breed identification and genetic health screening.
Summary
Our team determines the overall rating by considering many criteria, including ease of testing, genetic health screenings, breed identification, pricing, customer support, and more.
Orivet is a reputable company that employs a highly accredited laboratory for its testing. Their tests cover many of the same breeds and genetic health conditions as competitors, but at a more affordable price point. However, Orivet lags slightly behind Embark and Wisdom Panel due to extended wait times for results and mixed feedback on their customer support.
Pros
350 recognized and developing breeds in their database
Genetic testing for over 200 canine health conditions and 40 physical traits
Health risks classified based on likelihood and impact
Gives you adult weight prediction
Results are emailed within 2-3 weeks
100% satisfaction guarantee
Cons
Results not as detailed as Embark and Wisdom Panel
Some customers said it took a long time to get results
Key Features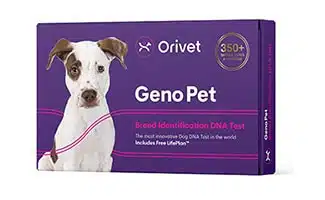 Geno Pet breed identification screens for over 350 breeds, types, and varieties of canines, and results include the percentage of each breed that makes up your dog
Geno Pet+ screens for 350 breeds and over 200 genetic diseases and over 40 physical traits
Purebred Dog DNA tests available for 10 different breeds* (only screen for breed-specific health conditions and traits, so this is more affordable than Geno Pet+)
All test results include a personalized wellness plan
Orivet has been working with veterinarians and breeders for over 10 years
Company contributed to the development of standards of genetic testing in animals
Member and sponsor of the International Partnership for Dogs
*Breeds include Australian Shepherds, Miniature Australian Shepherds, Beagles, Border Collies, French Bulldogs, German Shepherds, Golden Retrievers, Goldendoodles, Labrador Retrievers, and Labradoodles.
Price
Geno Pet+ (breed, health & trait screening): $169.95
Geno Pet (breed ID):

Purebred Dog Full Breed Profile (health):

$129.95


Coupon
Orivet is often sold for less than MSRP on Amazon.
How Do I Get A Good Cheek Swab?
If you're wondering how to collect your dog's DNA properly, Orivet's video tutorial below shows you the easy steps to take to get a good cheek swab.
What's Our Final Verdict?
Orivet is a well-respected company that uses a highly accredited laboratory for their testing. They test for many of the same breeds and genetic health conditions that the top two dog DNA testing companies do — and at less expensive pricing. However, Orivet falls slightly short compared to Embark and Wisdom Panel, largely because of the reported long wait times for results and mixed reviews for accuracy and their customer support.
Tagged With: DNA