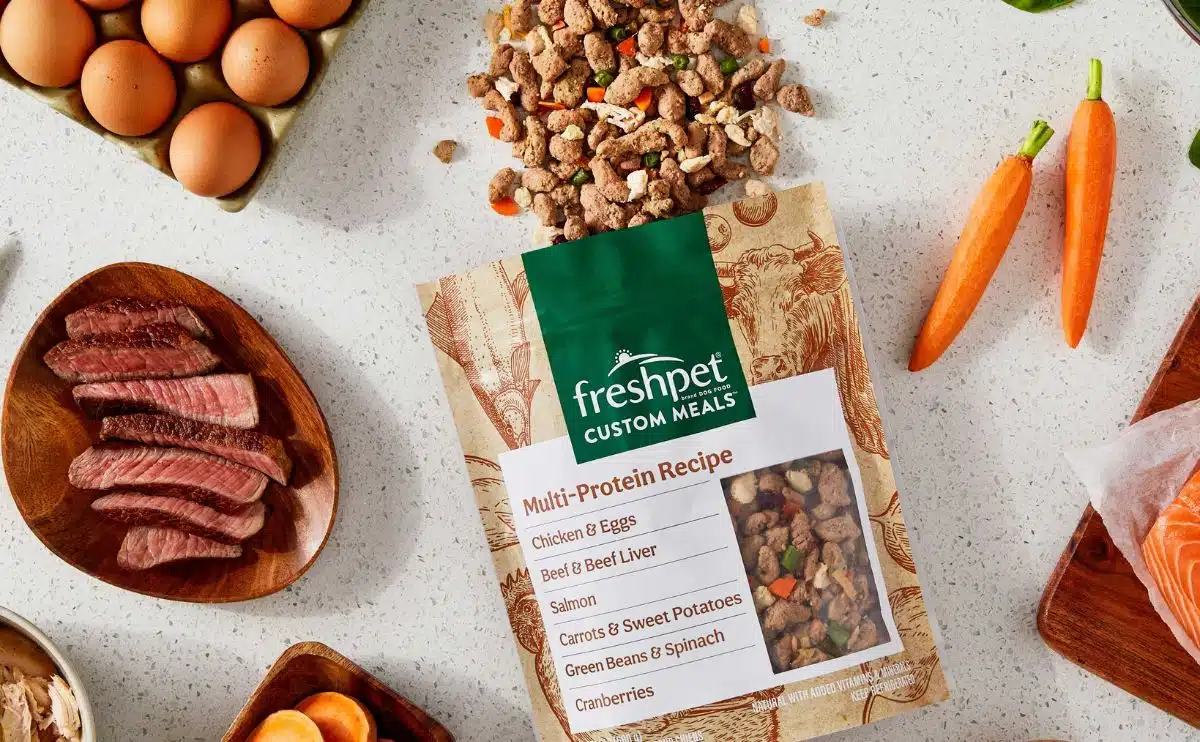 Fresh food has recently become a preferred choice for many dog owners. Fresh foods are less processed, retain top nutritional value, and taste great. One company that has been making fresh pet recipes for the past 17 years is Freshpet. This was North America's first company to offer fresh meals for dogs. The company sells its products in select grocery stores and on some third-party websites. The company makes fresh pet meals using locally sourced ingredients. Is this brand a good option for your pup? We give you the details in our Freshpet dog food reviews.
Freshpet Dog Food Review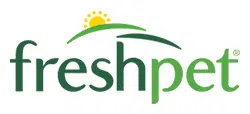 Product Name: Freshpet
Product Description: Freshpet is a company that uses all-natural ingredients, no preservatives, and gentle cooking methods to provide fresh pet meals.
Summary
Compared with many other dog food options Freshpet is a premium, fresh meal option for dogs that has been around for 17 years. The company uses all-natural ingredients, no preservatives or chemical additives, and is prepared in company-owned kitchens in the USA. 
Our team rates dog food based on several factors, including variety, nutritional value, pricing, customer support, and more.
Pros
All natural, whole ingredients. Small batch preparation
Gentle steam cooking
Several product lines to select from 
Fresh, refrigerable food is found in grocery and pet stores 
Available from several online retailers 
The brand is dedicated to preserving the environment. 
Cons
Pricey option. 
Some products are hard to find.
Must be used within seven days
Some owners do not like the smell 
Key Features
Locally sourced ingredients.
The recipes are gently steamed at low temperatures.
Farm-raised meats, all-natural fruits, and vegetables.
Refrigerated foods are prepared in Bethlehem, Pennsylvania, and Ennis, Texas. Treats are made with partners in the USA.
The brand is working towards a zero-carbon footprint, using wind energy.
Landfill free, the company aims to recycle or reuse everything.
Preservative free.
No meat powders, meals, or by-products.
Fresh ingredients are delivered to kitchens daily.
Freshpet Dog Food Ingredients
Freshpet offers several products and recipes. This makes it tricky to name every ingredient in every recipe. They use only natural, newly harvested ingredients, no artificial fillers, preservatives, or flavors. Refrigerated products must be eaten within seven days of opening. Some key ingredients include real meat as the first ingredient.
Farm-raised meats include poultry, turkey, beef, bison, lamb, and fish. Eggs and organ meats are also used. Fruits and vegetables include carrots, spinach, potato, peas, cranberries, blueberries, pumpkin, sweet potatoes, and green beans. Some formulas include healthy whole grains like oats, rice bran, and brown rice. Vitamins, minerals, and supplements include fish and sunflower oil.
Recipes use only US-raised, 100% farm-raised meats. 96% of the ingredients are from North America. 4% are non-domestic. Recipes use all-natural ingredients with no artificial or chemical preservatives, BHA, propylene glycol, flavors, or colors.
The brand closely adheres to the Safe Quality Food (SQF) Program and Food Safety Modernization Act (FSMA). The company performs risk assessments and uses supplier preventive controls to safeguard that ingredients pose no food safety risk.
Recipes are 100% complete and balanced and meet AAFCO'S minimum standards. Additionally, all products are formulated and approved by Dr. Gerardo Perez-Camargo, the resident veterinarian and Head of R&D. The company also founded the "Freshpet Nutrition Council, a group of board-certified DVMs, DVNs, DACVNs, and PhDs who guide, supervise and validate our research."
Has Freshpet Dog Food Been Recalled?
Yes, the company has issued recalls in the past. The most recent was in June 2022. One lot of Select Fresh From the Kitchen Home Cooked Chicken Recipe under recall for potential salmonella contamination. Prior to that, in June 2021, a single lot recall for potential Salmonella was issued for a single lot of Select Small Dog Bite-Size Beef & Egg Recipe.
Products & Price
FP makes several foods for dogs. They also have three lines of wet cat meals. Canine products include wet foods as well as tasty treats. Calories and nutritional content vary by recipe and protein.
Freshpet Select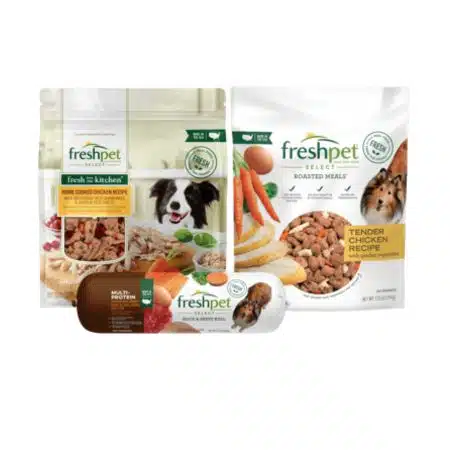 The Select line comes in both loaf form and shredded or bite-sized recipes. Some are grain-free, and others include grains, so owners have plenty of options. Rolls are available in 1.5 pounds and 5-pound weights. Other products are available in 1.75-pound, 5.5-pound, and 6-pound bags.
Puppy Recipe
Fresh From The Kitchen Home Cooked
Roasted Meals Tender Chicken, Grain-Free
Chunky; Beef, Chicken & Turkey
Small Dog Bite-Size Poultry, Beef
Small Dog Poultry with Cranberries & Spinach, Multi-Protein with Sweet Potatoes
Multi-Protein Complete: Chicken, Beef, Egg & Salmon
Sensitive Stomach & Skin: Steam Cooked
Big Bites Multi-Protein
Price: varies
Freshpet Vital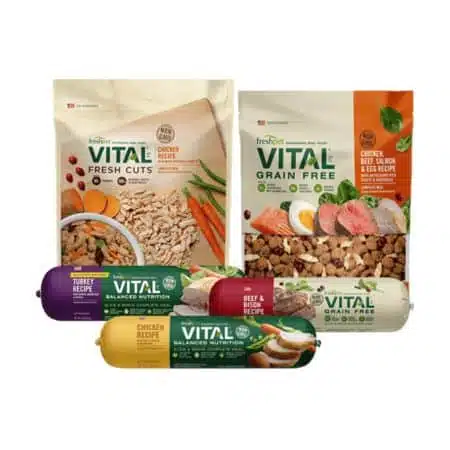 This gently cooked line is an even more limited ingredient recipe and focuses only on what canines need. Offers grain-free and chicken-free formulas for sensitive stomachs or pups with allergies. These also come in loaf and bite-sized recipes.
Balanced Nutrition: Chicken and Turkey
Fresh Cuts: Chicken
Grain Free: Chicken, Beef & Bison, Beef, Beef with Lamb, Salmon & Ocean Whitefish, Turkey, Chicken, Beef Salmon & Egg, Multi-Protein
Grain-Free Puppy
Grain-Free Small Breed: Poultry and Multi Protein
Multi-Protein
Balanced Nutrition Chicken
Digestive Health: Chicken with Pumpkin & Spinach
Joint Health & Mobility: Chicken & Salmon with Cranberries & Green Beans
Price: starts at $59.94 for 6 pounds (bagged)
Freshpet Deli Fresh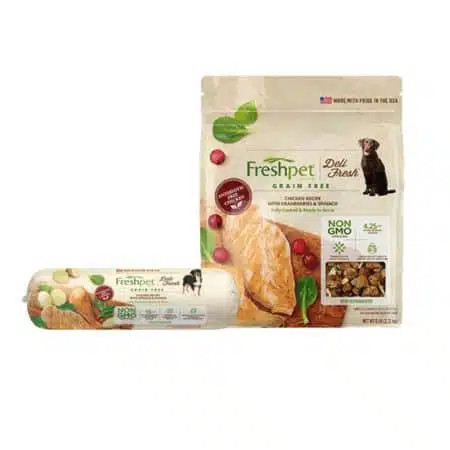 Protein-rich and grain free. Uses antibiotic-free poultry and fruits and vegetables. Antioxidant-rich, all-natural recipes. Comes shredded or in a roll. Owners must purchase this option in Costco stores.
Price:
Homestyle Creations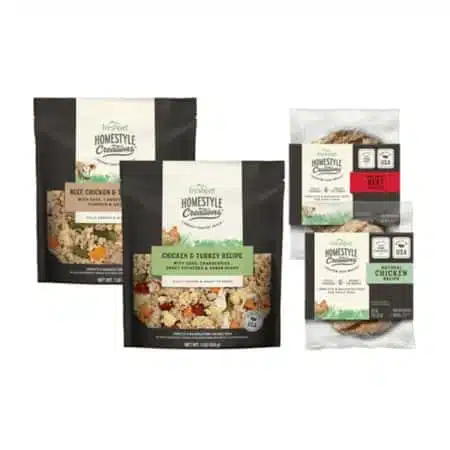 Complete, balanced meals using natural proteins. These are prepared and cooked in small batches to preserve taste and nutrition.
Homestyle Creations Natural Chicken
Homestyle Creations Natural Beef
Homestyle Creations Beef, Chicken & Turkey
Homestyle Creations Chicken & Turkey
Price: starts at $9.99 for a 16-ounce pouch
Spring & Sprout Plant-Based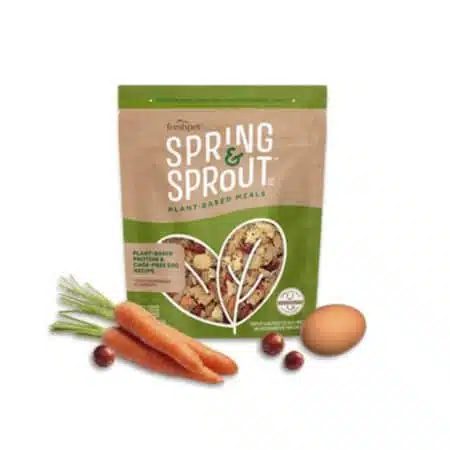 This line focuses on plant-based formulas using cage-free eggs and wholesome vegetables.
Spring & Sprout Plant-Based Protein & Cage-Free Eggs
Spring & Sprout Plant-Based Protein & Egg with Apple & Cheese
Price: not available
Nature's Fresh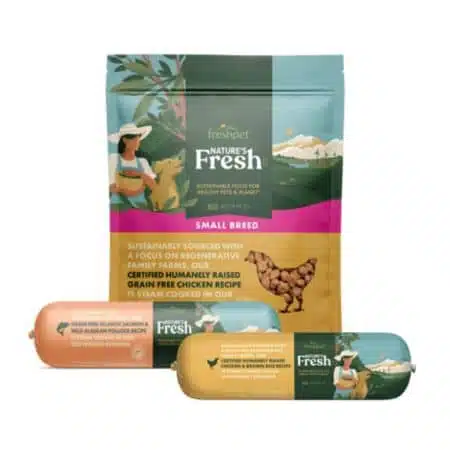 Sustainably sourced ingredients. Humanely raised, vegetarian-fed, and GAP-rated poultry. Sold at Whole Foods and other select specialty stores.
Grain-Free Chicken with Carrots & Spinach
Beef with Garden Vegetables & Grains
Price: not available
Freshpet Treats
This brand makes two lines of doggy treats. These are meat-heavy treats and chews.
Dog Joy Treats: Chicken, Turkey, Turkey & Apple
Dognation Treats Turkey Bacon, Chicken
Price: starts at $2.33 per ounce
Freshpet Custom Meals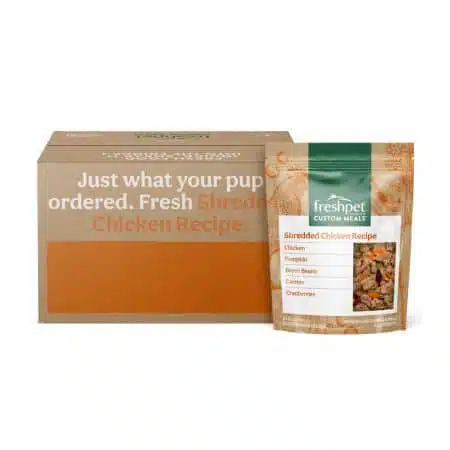 Owners can create customized meal plans based on their pup's unique needs and preferences. This is available only through Petco.
Price: varies
Our Personal Experience With Freshpet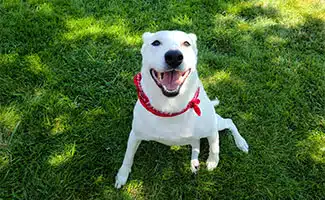 "I have purchased Freshpet loaves in the past. I used these cubed up and mixed in with my older dog's regular dry kibble. She is starting to be picky about her dry food, and this was able to add moisture and flavor variety. My older pup enjoys the flavor and loaf texture. This is not a regular, daily meal for this pup. Instead, it is more of a special treat due to the higher price point. This is an occasional purchase from the local grocery store for a treat. It is easy to locate in my area and does not require a subscription or long-term commitment, which is why I chose it."

– Danielle D., Canine Journal
Is Freshpet Good For Dogs?
Overall, this is an above-average choice to feed your pup for wet food. We like that ingredients are sourced from North America and that they cook everything in company-owned kitchens. The limited ingredients make it easy to digest. Most recipes are high in protein and use real, named animal meats and organs. The Select Roasted Chicken Meal with Garden Vegetables, for example, has 14% crude protein (min), 11% crude fat (min), and 1.5% crude fiber (min).
When it comes to fresh food options, this is not what we would choose as our top pick. Though high-quality, it is pricey and not as appealing as other fresh food services like The Farmer's Dog, Nom Nom, and Ollie. This is a great choice for owners who do not want to commit to a subscription. It is easy to use and available in most areas. though some recipes are hard to find.
Frequently Asked Questions
Is Freshpet Cooked Or Raw?
These recipes are gently cooked, not raw. All pet foods use a steam cooking process.
How Long Is Freshpet Food Good For?
Products require refrigeration and are to be served within seven days of opening.
Where Can I Buy Freshpet?
These products are available through online retailers such as Amazon and Chewy and in pet and grocery stores around the country. Pet owners can use the Where To Buy tool on the company website to locate specific retailers and products available in their area. Some products are only available through select retailers like Costco and Petco.com.
Can Freshpet Be Frozen?
These meals are not frozen during manufacturing, but owners may safely freeze them if they wish. This can make products stay usable longer but must thaw out to eat. Once they thaw, dogs must eat everything within seven days. Food consistency may change in the freezing and thawing process.
Freshpet vs Other Companies
Interested in seeing how Freshpet stacks up against other popular pet food companies? We've written comparison articles for you to see how Freshpet and other leading dog food companies compare.
What's Our Final Verdict?
We have reviewed a long list of dog food brands, and Freshpet has many above-average qualities. The all-natural, high-quality ingredients and steam cooking technique make a delicious meal. These refrigerated products tend to have higher than average protein, fat, carbs, and moisture. Recipes all use real meats and organ meats. Some product lines are easy to locate, and owners can purchase them at the grocery store. Others may require more of a hunt.
Overall, this is a food you can feel good about feeding your pet. Limited, locally sourced ingredients and company practices mean an elevated quality standard. If you are still looking for unprocessed or human-grade pet meal options, read our reviews of the best fresh dog food delivery services and our reviews of The Farmer's Dog and Ollie. We can also help with the best dog food for pups with special diets, sensitive stomachs, and health needs.
You can also consider the best canine joint supplements along with diet. As with any significant change to your pet's diet, adding a supplement is only something you should do after you have discussed it with your veterinarian.
The information provided through this website should not be used to diagnose or treat a health problem or disease; it is not intended to offer any legal opinion or advice or a substitute for professional safety advice or professional care. Please consult your healthcare provider, attorney, or product manual for professional advice. Products and services reviewed are provided by third parties; we are not responsible in any way for them, nor do we guarantee their functionality, utility, safety, or reliability. Our content is for educational purposes only.
Tagged With: Food Delivery