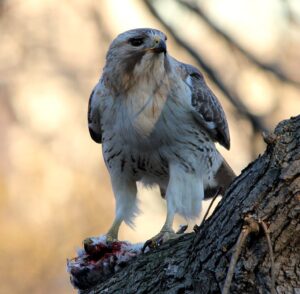 Dwellers in New York City find their outdoorsy beauty in the "wilds" of their famed Central Park. They attend the show often. In fact, they have their favorites, all known by name. Recently, an escaped Eurasian eagle owl, from the enclosure at the nearby zoo has enjoyed his freedom with the zoo officials deciding that his enjoyment of the open air was more important than his recapture. His name is Flaco, and he is the subject of many photos from the dedicated bird watchers in Central Park. Another famed owl that was viewed every day by the faithful was known as Pale Male. He was a red-tailed hawk.
Pale Male had resided in Central Park since 1991 and is considered a legend. Some birders report that they got into the fun of birding because Pale Male was quite visible and frequently seen. On May 16, the birders of Central Park went into mourning after the reported death of the icon. They have taken to the Manhattan Bird Alert twitter account to post photos and to give brief homage.
A Hawk in the City
Pale Male had such notoriety that he was featured in a 1.5-hour documentary in 2009 called, "The Legend of Pale Male." (You can watch that for free here.) The video concentrates on the first time that Pale Male was recognized more than 30 years ago. He was also featured in an episode of "Nature" and is the subject of three children's books. Such was the fame of Pale Male.
The cause of death is thought to be renal failure due to old age. Bobby Hovarth, a wildlife rehabilitator, was notified by a park ranger after the hawk was discovered to be seemingly ill and made the trip to get the hawk for veterinarian care. Pale Male ate feebly yet showed no change in his weakened state. Hovarth made the announcement to his Facebook account after Pale Male had died. Nevertheless, Pale Male left behind a memorable legacy.
Pale Male had several mates during his lifetime, with his last being Octavia. His fame grew even further when, in 1993, Pale Male and his then-mate, Lola, took up residence on a Fifth Avenue apartment complex window ledge. In 2004, outrage set in as well as a firm hand-slap from the US Fish and Wildlife Service when the apartment removed the nest that Pale Male and Lola created. (Raptor nesting sites are federally protected.) After a short but riotous furor from NYC's birders, the apartment co-op built a new holder for nesting on the ledge. Pale Male and Lola returned and built a new nest. To date, there have been five known mates, Chocolate, Blue, Lola, Lima, and Octavia. Pale Male survived all but the latter. He has many descendants.
It's little secret that Pale Male had outlived most red-tailed hawks, who have a typical lifespan of 10-15 years. Pale Male amply exceeded that limitation quite easily, and for that, his death is celebrated more as the bird that thrilled the birding community in NYC. He was 32 years old, an amazing feat all by itself.